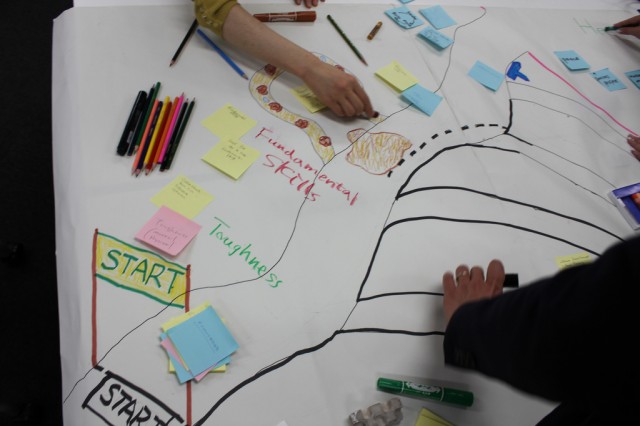 For those of us, fortunate enough to have worked under great managers early in our career, we rarely forget them and aspire towards their management attributes as we progress within our careers. I recall a conversation not too long ago with members of the team in which we discussed the 'best managers' for whom we'd worked and one colleague in particular was adamant that all her management skills were learnt from the manager that she held in such high esteem. She remained connected with him and would often approach him if in need of management advice or mentoring.
Management roles present us with an opportunity to really make a difference to an individual and to become that person that positively influences and shapes the development of team members as they progress within the organisation.
If you are new to managing a team, then be sure to get as much support as you can in the early days as this will undoubtedly shape your management success.
Open training programmes are a fantastic start as they give you the opportunity to meet other individuals new to field and to gain an insight into their experiences. These training programmes will also equip you with the fundamental, core performance management skills and challenge you with scenarios and case studies which you will undoubtedly have to deal with as part of your role.
For those of you not in the position to participate in training, here are some key considerations to help you along the way:
· Ensure you fully understand the roles of your team members. Where necessary, take the time to sit with them with and shadow them as they do their role. Understand the challenges of their roles, the tools they use, the way in which their role is integrated with other roles across the organisation and also the success measures of their roles. Why has the organisation invested in these roles? What must these roles absolutely deliver in order for them to be of value?
· If not already mapped, then map out Key Performance Indicators (KPIs) for your team members. KPIs are the key objectives of the role; collectively the KPIs of individual roles help the overall organisation to meet their broader objectives
· Since poor communication can often underlie performance issues, then be sure that all your team members understands their KPIs and what you expect of them – clearly prevention is better than remedy
· If at any time it becomes apparent that one of your team members is having a difficult time with their role then speak to them immediately. Performance often becomes an issue if managers leave the individual to it and hope they will find their feet. Again, prevention of an issue is certainly easier for you and healthier for the self-confidence of the employee concerned if potential problems are averted
· If discussing performance with any of your team then always ensure that the discussion is as open as possible. It should always be the individual and not you that dominates the conversation. Failure to listen and failure to facilitate an open discussion will undoubtedly result in the core issues remaining undetected. The issues are not always what you might assume they are as a manager, do don't attend the meeting thinking that you have all the answers.
· During this discussion, you will ultimately want to understand where in the cycle of their role they are finding challenges. On this basis, why are the challenges there? Is it an issue with training? Is it an issue with communication (perhaps the needs of the role have not been sufficiently clarified with the individual)? Does the employee lack the tools or materials essential to do their job properly? Perhaps these tools or materials are not fit for purpose? Do they need to be further developed / amended? Are other team members being helpful? Is anyone inadvertently making the role of this individual more difficult than it need be by not fulfilling their own role adequately? Is the individual managing their time properly? Could they benefit from time management training?
· Undoubtedly, this conversation (coupled perhaps with additional shadowing of their role for a defined period) will throw light on the issues which need to be addressed. Discuss your findings with the individual and ensure that they are in full agreement with both the issues and your suggested solutions. Can the individual further add to the solutions? Is anything missing?
· Create a shared document with the individual and outline each issue clearly; adding the activities which need to happen in order to correct the issue. Discuss the document regularly with the individual and take a keen interest in their progress.
It is most likely that the activities outlined above will go a long way to addressing the situation; winning the respect of your team member and the preservation of their dignity and self-confidence.
Where these actions do not correct the situation and where the issue continues, it may be necessary to implement the formal disciplinary processes of your organisation. It is a legal obligation in the UK that companies have formal disciplinary processes in place and that these are followed as required.
If you need any formal training support in this respect then do not hesitate to get in contact. We partner South West businesses to deliver Business and Management related training courses across Somerset, Dorset, Wiltshire, Gloucester and surrounding areas.