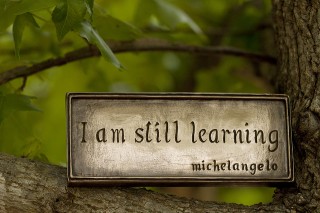 Training approaches differ greatly across companies and with experience working across large corporates through to small privately owned companies, I've found that the value and nature of the respective policies vary greatly in tandem.

Within the corporate world, my experience has been that there is a tendency to 'pin everything down' – if it can't be measured, quantified and reported on, then the attitude is that efficiencies are lacking. With the luxury of ample training budgets, the corporate world has the ability to arrange regular training courses which are delivered by fantastic trainers. One would assume that the courses would be well received but my experience suggested that these programmes were not.

Often the training policies in place operated a blanket approach which ensured that staff working in particular areas would be trained in a, b, or c; regardless of delegate willingness. I appreciate this is a need when health and safety or basic job training are at stake, but, what happens when they are not?

Having been a delegate myself on endless courses, I witnessed many people attend merely because the organisation expected them to attend and not because the delegate had opted to. It was a day out of the office and a chance to have a buffet lunch with colleagues coupled of course with the opportunity to finish early (training often finishes by 4pm). I found that when the 'want' factor is taken away from the delegate then the return on investment expected by the employer wanes. They dutifully attended the training session, learn less than would be anticipated and then return to work for business as usual.

Ok, this might be a really negative perception and it's not as black and white as I write, but there is a great deal of truth here.
When working in a smaller (and often more creative environments) where there was an absence of prescribed training programmes, I found that staff were more motivated to train. In these particular environments I found that staff members would find something applicable to their roles, that they really enjoyed and would then request training. The training would then be arranged in response to something that the staff member really wanted to do. They were motivated to learn and got more from the programme.

When training works from the outside in, i.e. pouring information into a vessel that isn't necessarily keen to be there, then some (if not all) the information often pours out through the other end. When, however, the need is generated from inside out i.e. the individual has personally recognised a need for the training and has requested it, the vessel holds far more information. Learning is more likely to be retained and the individual is more likely to apply their learning within the work environment.

Note also the use of the word 'learning'. Within this context, learning can be perceived as individually inspired whilst 'training' can be perceived as externally instigated. I'm not saying 'don't have a training policy', instead I think companies should really think through how the policy is applied. Does training really need to be something that is quantified across the board? Do all courses really need to be mandatory? Perhaps there's a little freedom that companies can apply when thinking through their policy. My preference is to present an environment in which, during one to ones and appraisals, employee and employer engage in a conversation which has as little ERTT (Employer Talking Time) as possible and enables the employee to talk about how they are doing in their role and personally identify potential learning paths which meet either current gaps in know-how with their role or learning opportunities to meet the needs of future roles to which they aspire.

As such, my ideal training policy is to ensure that managers know how to facilitate good quality discussions with their staff and are able to promote the learning topic as a key feature of their discussions with their employees. If the employee recognises a need (and if it's relevant to the company or the employee's role) then consider allowing the employee to investigate possible learning or training environments. It may even be that training which is not entirely related to a role is sanctioned as a retention tool. A number of times in my role as Manager I have sanctioned Diplomas and other post graduate courses, not because they have directly benefited the role, but because I've known that the employee has a deeply held interest. As such, sanction of such courses has become a retention tool in kind as the employee feels valued and perceives the employer as caring about their personal development.

In the most recent training policy I developed, I also ensured that staff returning from training / learning opportunities shared their learnings with other staff members. These events are a great way to get teams together and to allow them to share knowledge and learning within an open environment with people they trust. The sessions should be employee led and open floors should be allowed to ensure that other employees can contribute their opinions or experience of the subject matter. It also helps consolidate delegate learning through the action of relaying it to others.
To summarise, yes, training is important but I question training policies which are structured to such an extent that training is 'imposed' blanket like on employees. My belief is that regular discussions in respect to learning and development are vital to identifying needs and allowing individuals to reach their own conclusions as to learning needs. Finally, bringing the training back into the work place and allowing the discussion of training points lends itself to greater training consolidation for the delegate and team building for the broader team.